By Aaron Sihota, BSc Pharm'14
What does healthcare have in common with the business of advertising, civic politics, psychology and law? How can banking transform healthcare? The connections may not be clear at first glance. But upon exploring the possibilities, touch-points of synergy emerge.
 Pharmacy Leaders of Tomorrow (PLoT) is an innovative grassroots alumni networking platform. It was launched to inspire millennial healthcare practitioners who are members of the UBC Alumni community to achieve innovation and entrepreneurial success.
Launched in September 2015,  PLoT is organized by a diverse group of young UBC Pharmacy Alumni. It emphasizes the value of building partnerships with the broader community (business, digital health and tech, banking, marketing, law, design) to explore and solve the collective problems we face in health. It is at the fringes of these borders where real innovation occurs.
 The Lean Format
Using the lean meetup format, we engage anywhere from 40-60 young pharmacists and pharmacy owners every month over a beverage (or two!) in a casual atmosphere. We find the group size amenable to meaningful engagement and conversation. Our meetups have addressed topics ranging from ways to close the gap in the coordination of your patients' care, to entrepreneurship and the integration of digital health to optimize patient outcomes, to changing healthcare culture, to the role of academia and industry in influencing healthcare policy.
Every meetup is hosted by a special guest. We have had hosts not only from health professions including nursing and medicine, but also Digital Health Executives, the former President and Chief Marketing Officer of Telus and Globe and Mail Columnist, as well as entrepreneurs and UBC Faculty members.
UBC President and Vice Chancellor Dr. Santa Ono recently hosted PLoT in April in the format of a fireside chat to discuss how academia can achieve synergy with industry when it comes to healthcare and pharmacy.
In a session with Vancouver City Councillor Dr.Kerry Jan we considered the regulation of marijuana and possible implications for the pharmacy industry.
Dr.Kendall Ho, VGH ER physician and Lead of the UBC Digital Emergency Medicine unit at the UBC Faculty of Medicine recently helped us explore digitizing Traditional Chinese Medicine.
We notice that most of our guest hosts actually become participants and attendees at future PLoT meetups!
Our format is casual and we also livestream and take virtual audience questions. The guest host stimulates the conversation to provide context and background to the evening's overarching theme. This is followed by Q+A discussion. 30 minutes are usually set aside at the start for networking/mingling followed by 30 minutes of post-networking.
The Evolution
The initiative began with a conversation at a coffee shop. Gerry Spitzner and myself co-founded PLoT to address the gap in business knowledge and mentorship between when students graduate and enter the pharmacy workplace. But as with any start up, we pivoted into a model that incorporated other pillars including innovation, technology, entrepreneurship and cross-pollination.
PLoT is volunteer driven. A lot of time has been devoted to make it a reality. This is particularly important with an initiative like this. Fortunately, a leadership award from the Canadian Foundation of Pharmacy (CFP) helped get things kick-started. There has been a lot of experimentation along the way as well.
We owe a debt of gratitude to the College of Pharmacists of BC, the UBC Faculty of Pharmaceutical Sciences and BC Pharmacy Association who have been involved in various capacities.
Do You Want to Launch a Similar Initiative with UBC Alumni From Your Faculty?
Start small. The format would work quite well for professional faculties such as Sauder, Medicine, Law, and Nursing, but could be adapted for larger faculties as well.  The model is very scalable.  We adopted a monthly meetup format, but even once every 4 months is a great start.
 Impact +Future
The direct impact we have observed is communication, collaboration, learning, alternative thinking, and idea sharing. The networking value alone is immense. We have seen relationships forged within the healthcare community resulting in working partnerships, as well as cross-disciplinary collaborations. Our platform allows for the discovery of new business opportunities and provides a means of engaging a demographic of the UBC Alumni community who may not go to traditional events.
Ultimately, it's a great night out, a lean format with a big impact. Moving forward we hope to build collaborations with other faculties to engage and cross-pollinate. There are elements within many professions that can benefit one another. Looking at problems in society from a collaborative lens and forging new non-traditional relationships is a key component of the entrepreneurial journey. The future is collaborative.  We hope to continue hosting important conversations and accelerating the personal and professional growth of all those involved, one meetup at a time.
PLoT was asked to showcase the first of its kind in Canada initiative  in Calgary at the 2016 Canadian Pharmacists Association (CPhA) Conference. For more info and to get a taste of the meetups feel free to visit the website http://leadersofpharmacy.com  and Facebook page: http://facebook.com/pharmacyleadersoftomorrow or reach us at info@leadersofpharmacy.com
---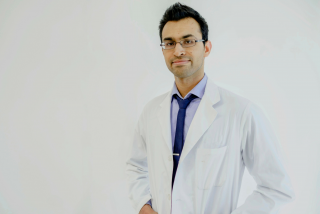 Aaron Sihota is a 2014 Alumnus from the UBC Faculty of Pharmaceutical Sciences and Co-Founder of Pharmacy Leaders of Tomorrow (PLoT). He actively promotes care innovation and change leadership as a Primary Care Pharmacist based in Vancouver, BC. As part of a specialized collaborative pharmacy that focuses on outcome based immunotherapy and dermatology services, Aaron works in collaboration with a group of specialist physicians and nurses. He is also a clinical consultant to one of North America's First private Inner City Pharmacy and Research Clinic model that targets co-occurring Addiction, Infection and Psychosis.
Aaron is a Clinical Instructor and co-creator of the Cosmetic Dermatology and Compounding elective course at the UBC Faculty of Pharmaceutical Sciences. The course takes a look at the healthy aging of the skin and the assessment, treatment and therapeutic monitoring of wrinkles, scarring, and discoloration of the skin by the pharmacist. He has served as a strategic consultant with the College of Pharmacists of BC as well as the BC Pharmacy Association and BC Ministry of Health.
As a student, Aaron served as a UBC Senator, on AMS council, and as President of the Pharmacy Undergraduate Society.
Do you have career development knowledge to share with your fellow alumni? alumni UBC welcomes guest submissions to our career blog. Email Alumni Career Educator michele.murphy@ubc.ca for more details.