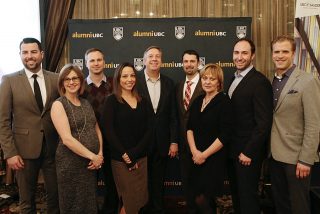 It was a rainy night, but that didn't stop over 200 UBC alumni from attending last Thursday's alumNIGHTS evening at Vancouver's Terminal City Club. alumNIGHTS is our signature professional development evening, and it's always well-attended. But Thursday was particularly special. After learning that 13 recipients of Business in Vancouver's Forty Under 40 were UBC alumni, we decided to use alumNIGHTS as a pre-party for the awards gala. We invited the recipients to be our special guests so that we could celebrate them and their accomplishments and also give other grads a chance to network with them and each other.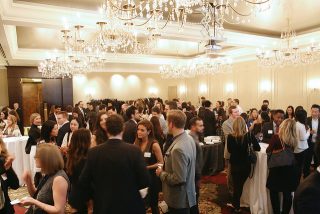 After a lot of careful planning by our alumni UBC team, we knew a great evening was in store. Fred Lee, our Director of Alumni Engagement, was the perfect host and gave each recipient a special introduction. The rest of the evening was spent eating, drinking, and getting to know one another. Some highlights from the event included one of our award recipients boarding a helicopter from Nanaimo just to be with us. And I unexpectedly met two UBC Sauder grads in the foyer of the Terminal City Club, on their way to play a squash game. They hadn't known about the event, but we convinced them they should join us after their game, and they did! They even got to reconnect with some former classmates.
I was thrilled to meet some UBC Okanagan grads in person who I'd previously only met over the phone. I was also happy to see that many alumni who were at the Vancouver Art Gallery alumNIGHTS in November were joining us again. It was great to see familiar faces and meet some new people as well. We are really building a community together.
I can't stress enough how valuable your UBC network is when developing your career. alumNIGHTS is the easiest way to tap into that network, so make sure you attend each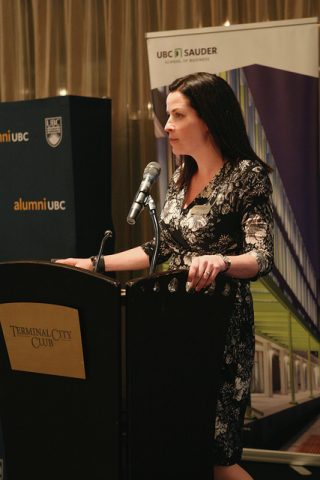 every event. Watch your inbox for details on our next alumNIGHTS evening , tentatively set for late spring. And don't forget to follow up with the incredible people you met on Thursday.  Connect with them on Linked In, or send a brief email telling them you enjoyed meeting them. The point is to reach out and continue the conversation. That's where business, and career growth, begins.
Did you attend the Forty under 40 alumNIGHTS at the Terminal City Club? Please share your feedback in the comments.
---
Michele Murphy is the Alumni Career Educator at alumni UBC. The alumni UBC Career Development Program supports UBC graduates at all stages of their career development process. Visit us online at alumniubc.ca for career events, resources, and professional development opportunities.